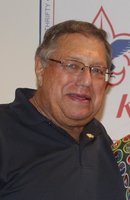 Rosemary M. Dalton
Watervliet
Rosemary M. Dalton, 61 passed away on Sunday, April 9th at Berkshire Medical Center in Pittsfield, MA. Rosemary was born in Troy, NY the daughter of the late Jerome and Doris Galvin O'Donnell. Rosemary lived in Troy for most of her life moving to Watervliet 7 years ago.
Rosemary, was a Certified Nursing Assistant, and was employed by Van Rensselaer Manor from 1971 until her retirement in 2010. She was a lady who was very active in many different organizations including: The Ladies Auxiliary of the DAV, Northeast Vietnam Vets Reunion Association, Ladies Auxiliary of FASNY and an Auxiliary member of the Volunteer Fire Police Association of the State of New York. Rosemary lived a simple life devoting her time to her family and The Manor. Rosemary was an avid bowler.
Besides her parents, Rosemary was predeceased by her husband, William E. Dalton in 2013. They had been together for 38 years.
Rosemary is survived by her two daughters; Nicole L. Dalton of Gloversville, NY and Courtney J. Dalton of Watervliet, NY. She was also step-mother of; Parrish Dalton, Dawn Rush and Eric Dalton. She is also survived by her sister Dorie (Bud) Brammer of Clifton Park, NY, 12 grandchildren and 8 great grandchildren. She was Aunt to: Norman Brammer, Carol Drobneck and Tracy Preotti.
A Funeral Service will be conducted on Thursday morning at 11 o'clock from the Chapel of the Riverview Funeral Home, 218 2nd Avenue (corner of 104th St.) Lansingburgh. Relatives and friends are invited to attend and may also call at the Riverview Funeral Home on Wednesday from 4 to 8PM. Interment will follow at the Gerald B.H. Solomon Saratoga National Cemetery, 200 Duell Road, Schuylerville, NY. Contributions in Rosemary's memory may be made to the American Diabetes Association 50 Colvin Avenue, Albany, NY 12206.