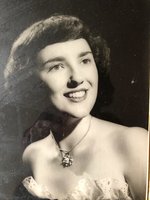 Jane Hemingway
Pittstown, NY
Jane Hemingway, 78 yrs old, passed away peacefully at her home on April 10, 2017.
Jane was born in Champlain, NY, on February 9, 1939 to the late Kenneth and Della Dupree Bell. To everyone that knew her; Jane was a sweet, loving, caring mother, grandmother and great grandmother. She enjoyed every moment spent with family; she also enjoyed fishing, berry picking and garage sales, which were her favorite.
Besides her parents her husband Henry Hemingway and her son Lee St.Andrew predeceased her. She is survived by her children: Lawrence St. Andrew, Penny Dellio & Della Reed all of Troy, NY; Tracey Hemingway of Hinsdale, NH, Sherry McGivern of Orange, MA, Joseph Hemingway and John Hemingway of both of Champlain, NY. She is also survived by 13 grandchildren, 16 great-grandchildren and canine companions Rusty and Denise. A Memorial Service will be held at Riverview Funeral Home, 218 2nd Ave Troy, New York on Friday from 11am to 1:30 pm. A Prayer Service will be conducted at 1:30 pm. A reception will follow the service at 39 Meadowview Drive, Schaghticoke, NY 12154.