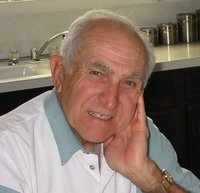 William H. Ratigan
Troy, NY
William Huxford Ratigan, age 87, passed away peacefully in his sleep on Sunday morning, April 30, 2017 at Samaritan Hospital, Troy, NY. He was born in 1930 to John Ratigan II and Reta Frances DuBois of Troy. He was sibling to 18 brothers and sisters. He was a product of the Great Depression and was named after a Civil War Captain of the 165th Regiment of the Dureays 2nd Battalion Zouaves. His grandfather was a color Sergeant of the same regiment, Sergeant John DuBois of Connecticut and then Troy. He served honorably in the United States Army and then, on a bet, joined the United States Marine Corp. and served during the Korean Conflict of the 1950's. After returning home, he married Jayne Streever, his first and perhaps the only true love of his life. He has three sons, Michael William, William Patrick and Brian Edward, all originally from Troy, NY. He worked as a New York Teamster, most notably for Leaseway of Menands, New York, now defunct. Upon his retirement he began his career as a notable local artist working in oils, pen and ink. Many paintings depicted the various scenes of old and new Troy. He was very prolific. He was honored with being included in the Saratoga Art Festival where each artist was consigned to paint a full size horse statue and that statue, "Emperor Fuji" is currently in the possession of the Glens Falls National Bank.
He loved to travel and introduced his sons to the great outdoors, specifically the Adirondacks. One of his favorite spots was Kelly Point, Long Lake, NY where he spent many summers camping and sharing his love of the outdoors with his sons and their brothers and sisters. He taught them how to shoot, hunt and fish and how to survive in the wilderness. He was greatly loved by so many people that upon his death the outpouring of love and affection from family and friends and members of his spiritual community have been overwhelming, especially in this day of modern, immediate communications. Perhaps his most notable characteristics are his intense defense of his country and his intense patriotism, which is shared by his sons and their children and his all-encompassing love of family.
All his brothers and sisters predeceased him and was the last soldier standing at guard. He is survived by his former wife Jayne Bouchey of Ormond Beach, Florida, his sons Michael of Troy, New York, William (Joanne) of Buskirk, New York and Brian of Glenville, West Virginia and their brothers and sisters, Tony Sanzo of Cape Cod, Nicholas Sanzo of Niskayuna, Jan Sanzo of Ormond beach and Jill Sanzo also of Ormond Beach, Florida. He had eight grandchildren, Priscilla, Joseph, Michael, Brandon, Aaron, Angela, Joshua and Taylor and additionally nine great grandchildren. He has numerous nieces and nephews and their families. He loved each and every one of his family and if possible, would have spent all of his waking hours with them. His family connections were his lifeblood. A Funeral service will be conducted at The Riverview Funeral Home, 218 2nd Avenue (corner of 104th St.) Troy, NY, on Thursday May 4th at 11 AM. A period of visitation will be observed on Thursday, May 4th from 9 to 11 AM. William will be laid to rest at the Gerald B.H. Solomon Saratoga National Cemetery in Schuylerville, NY, on Thursday at 12:30 PM. The great soldier, family man, artist and patriot will be honored with military honors befitting all of our nation's heroes. May he rest in eternal peace.
In lieu of flowers, donations to the Arts Center of the Capital Region, 265 River Street, Troy, NY would be a fitting tribute. To leave Bill's family a message on their guestbook, light a candle or view other information, please visit: www.TheRiverviewFuneralHome.com.