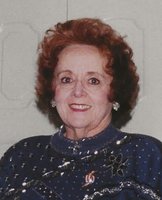 Iona C. Weddle
Iona Colleen Weddle, 88, died on Thursday, November 9, 2017 following a brief illness. Born in Dott, West Virginia on July 31, 1929, she was the daughter of the late Donie (Hurst) and Conwell Eli Bailey.
Iona was a graduate of Matoaka (W. Va) High School and moved to Cleveland, Ohio at the age of twenty-four. She married Wilbern L. Weddle in Cleveland on April 12, 1957. After she and Wilbern moved to Mentor, Ohio in 1960, she became a full-time homemaker. She also volunteered in a special education classroom and for the March of Dimes and numerous other charities. She and Wilbern retired to Wooster, Ohio in 1996 and moved to Troy, NY in 2014.
She was a voracious reader and a fierce defender of children and animals. She also enjoyed crochet, crossword puzzles, and numerous crafts.
In addition to her parents, Iona is predeceased by her devoted husband, her sister Glenda Midkiff, and her brother E.G. "Tootie" Bailey.
She is survived by her daughter, Bonita Weddle of Albany, and many nieces, nephews, great nieces, great nephews, and cousins. She was particularly fond of nephew John Midkiff (Marsha), great niece Stephanie Thompson (Marvin), and cousin Bonita Sink (Jerry).
Iona's family would like to thank the staff of the Eddy Memorial Geriatric Center for their many kindnesses and support.
Arrangements have been entrusted to the Riverview Funeral Home, Inc. of Troy, NY. At Iona's request, there will be no formal service or calling hours. Interment in Oakwood Cemetery will be private at the convenience of the family.
Contributions in Iona's honor may be made to the Elizabeth Malone Employee Assistance Fund at the Eddy Memorial Geriatric Center, 2256 Burdett Ave., Troy, NY 12180.