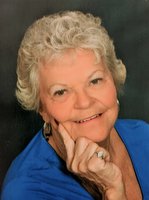 Ruth L. Landau
Albany, NY
Ruth Landau, 88, passed away on November 11th, her birthday. Ruth was born in Brooklyn, to Mabel & Louis Meltzer.
She moved to LI with her husband Harold in the 1970's. They both commuted to work for years on the LIRR, Ruth being an executive secretary to many prominent NYC businessmen.
When they retired in '92, they moved to Coconut Creek, FL. Ruth moved to Albany in 2017, to be close to family. She enjoyed her short stay at the Parkview Apartments, where she made many friends and helped launch the "knitting club".
Ruth is survived by her sons, Allen (Carol) and Ira (Sharon), Grandchildren Melanie (Kevin), Eric, Elizabeth, Kevin and Adam. She is also survived by 2 great grandsons, Cody & Jaxson. A service will be held in Brooklyn, NY. where she will be buried.