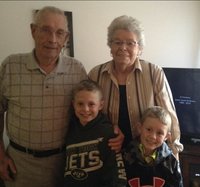 Theresa A. Smith
Cohoes-
Theresa A. Smith, 56 passed away on Friday, March 16, 2018, after being stricken at her home. Born in Troy, NY, Theresa spent most of her life in Green Island before moving to Cohoes 8 years ago.
She was employed for the better part of twenty years as a housekeeper for both the Super 8 and Best Western Hotels. Theresa will be remembered as a great mom,
wonderful grandmother and an avid "Coors" drinker. She was a great fan of "Oldies" music and will be missed at the American Legion Hall.
Theresa was predeceased by her daughter, Lekey Marie Harrell and brother William Ney, Jr.
She is survived by her daughter, April L. Harden of Cohoes and her sister Carol Buck of Green Island, NY. She is also survived by her grandchildren: Sean Harden and Casonna Irvin.
A Celebration of Theresa's Life will be held on Friday, March 23, 2018 from 4 to 8 PM at the American Legion Hall in Cohoes, 93 Oneida Street.
On Saturday, March 24th a Service will be conducted at 2 PM from Spindle City Vineyard, 121 Remsen Street, Cohoes. Relatives and friends are invited to attend.
Interment will be private at the convenience of the family in St. Mary's Cemetery, Troy, NY.