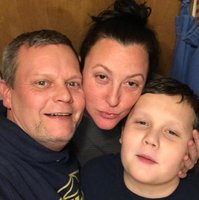 Marjorie Osgood
Marjorie Osgood, 70, passed away peacefully on, March, 13, 2019 at her home 3279 6th Avenue, Troy, NY, with family by her side. She was the daughter of the late Chester and Ruth Wescott.
Besides her parents, Marjorie was also predeceased by her husband, Walter C. Osgood, Sr. who died in 2013 and her siblings: Joann, Linda and Anna.
Marjorie leaves behind her children: Walter Jr. (Sterlin) of Troy, Jeffrey (Jackie) of Green Island, Eddie (Liz) of Brunswick, Danforth (Dawn) of Troy and Marjorie Crandall of Troy. She is also survived by her grandchildren and great grandchildren as well as her siblings: Sukey (David) Maynard of NC, Jiggy, Pete, Charlie, Freddy, Pumpkin, Barbra, Jean, Carolann, Winky, Kenny and Donald.
Private Services will be held to reunite Walter and Marjorie Osgood. Please contact the family for place and time.