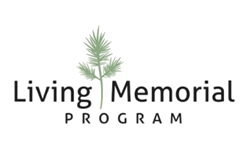 What is the

Living Memorial® Program?
The Living Memorial® program is a unique and special way to honor the memory of a loved one.

Established in 1976, more than 14 million seedlings have been planted, making it one of the largest reforestation programs in North America. When you select a qualifying Batesville casket or cremation product*, arrangements are made for a tree seedling to be planted as a living tribute. Planting partners include the USDA Forest Service, the Canadian Institute of Forestry and other international forestry and conservation groups. The species and location of plantings are based on areas of need – typically woodlands destroyed by forest fires, floods or other natural disasters. Batesville takes great pride in offering this free program to honor a life that has passed. *Not all products qualify.